Ehrenfest-Afanassjewa physics thesis prize 2020
The winner of the Ehrenfest-Afanassjewa physics thesis prize 2020 is Koen Bastiaans. He carried out his Ph.D. research in the group of Milan Allan and defended his thesis in December 2019 cum laude at Leiden University.
The prize is an initiative of the Dutch Physics Council can be seen as the successor of the discontinued FOM/NWO thesis prize. The award is named after Paul Ehrenfest and Tatiana Afanassjewa because of their exceptional ability to stimulate young researchers to leave the beaten path.
The Ph.D. thesis of Koen Bastiaans is entitled: "Probing quantum materials with novel scanning tunneling microscopy techniques". The jury complimented Bastiaans with this exceptionally complete and clearly described work, in which he describes his research into quantum matter. His versatility is impressive: besides performing simulations, designing and building his own unique equipment, Bastiaans has also managed to achieve wonderful results in the experiments he conducted. His research and thesis really contain everything you might wish for from a doctoral candidate.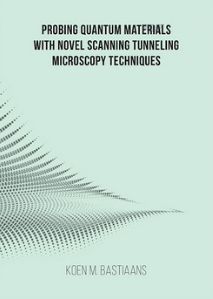 The jury was very pleased with the high level of the nominations and, in addition to the winning dissertation, gives honorable mentions to the Ph.D. theses of Mario Avellaneda (AMOLF), Jorinde van de Vis (Nikhef) and Andreas Wallucks (TUD).
De prize winner receives a bronze statue and € 5,000, to be spent freely. The first Ehrenfest-Afanassjewa physics thesis prize* will be awarded during the Physics@Veldhoven conference in January 2021.
For more information about Koen and his research, see also the information on https://www.universiteitleiden.nl/en/news/2020/11/koen-bastiaans-wins-first-paul–tatiana-ehrenfest-physics-thesis-prize.
*Note, the former name of this award was "Paul & Tatiana Ehrenfest physics thesis prize".